Digital Pet Scale Vet Scale Large Dog Cat Animal Weight Veterinary Diet Healthy
This livestock scale is designed to maintain the health of your pet! Any weight change can be a warning sign that your pet's health is in danger. With the help of this scale, you can monitor the weight of your pets timely and detect health problems early. This useful scale is not just for the small size pets, you can also put large pets on it!

660lbs Weighing Capacity

Big Platform

Stainless Steel Material

LCD Screen
Technical Data:
Model: SL-HS04
Material: Good Stainless Steel
Size: 103cm*52cm
Function: adjustable range 60KGS/120KGS/200KGS
Voltage:220V/110V
USE: Home/Pet store/Boarding/Feeder/Animal Hospital/Clinics,ect.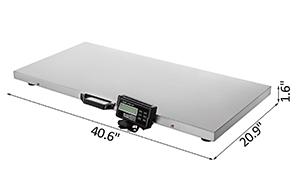 Other sizes available for choice as follow: